The holiday house Josmeh lies in the most southern part of Spain, in Andalusia. The Costa de la Luz - coast of the light - fascinates through their typical cities of mauricle style, by culinary pleasures like the sherry and by wonderful, warm sand beaches.
From the holiday house you reach the Atlantic coast (10 kms) or towns like Cadiz (30 kms), Jerez (50 kms), Tarifa (70 kms), Gibraltar (100 kms) or Seville (120 kms) within the scope of a day trip.
Enjoy the " route of the white villages " (Ronda, 120 kms) or attend Malaga (230 kms) or Alhambra in Granada (320 kms). The next city is "Chiclana de la Frontera" (6 kms) which offers purchasing and entertainment possibilities.
However, the next Venta with restaurant as well as food store is already in a distance of 1 km, the house itself lies near the street "Pago del Humo" (see lower map). Near the house there are dogs as well as chickens.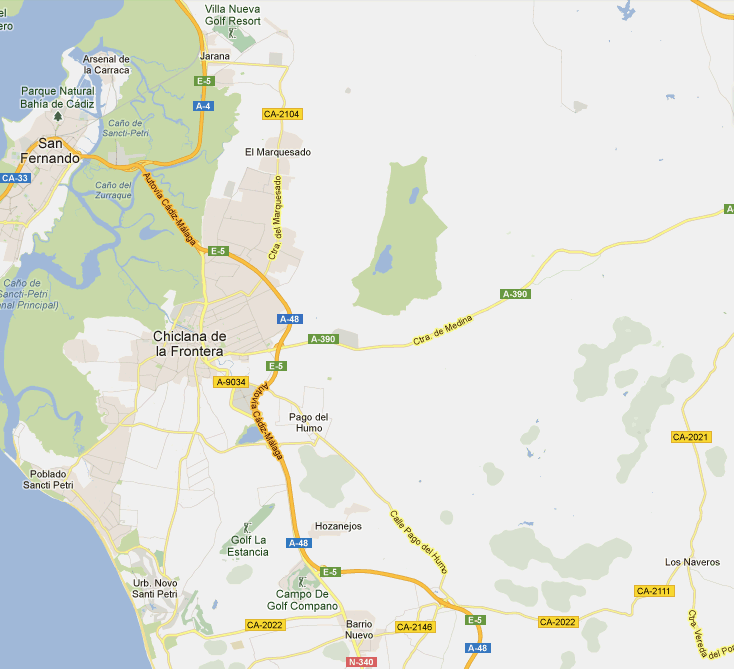 The next airport Jerez de la Frontera you find in a distance of 60 kms. Farther airports are Malaga (230 kms), Seville (approx. 130 kms away) as well as Faro in Portugal (approx. 300 kms away).
You find more information about Chiclana de la Frontera under:
http://www.chiclana.com/chiclana/ingles/
Here you can see the holiday house Josmeh (green arrow):