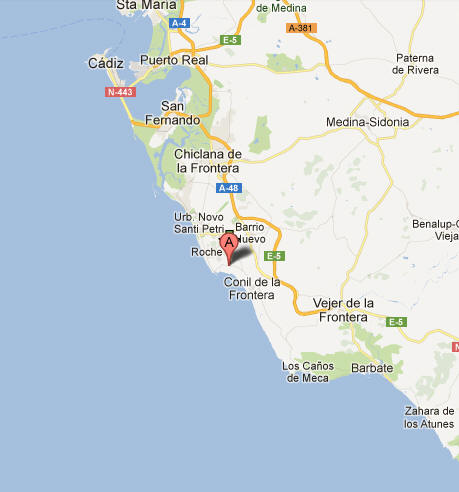 The holiday house "Monte Cazador" is situated in a calm, rural area. The next town Conil is in a distance of 3 km. In 1,500 m you can go to the next beach. The close forest is ideal for expanded walks.
A small supermarket and a restaurant lies in direct proximity.
The geographical situation to the atlantic ocean and the open and strange-friendly kind of the inhabitants makes your vacation in CONIL de la Frontera to a special experience. Touristical and culturally interesting places, handicraft and traditional activities make this wonderful andalusian village and its environment to a place, which you does not forget no more. Here you find peace, the contact with nature and a various offer which only few places offer to you. Its old part of town kept the attraction of the andalusian villages.
Here you can see the holiday house Monte Cazador (green arrow):